I always thought that i am not shallow person. I try not to judge people and accept people the way they are. Recently an incident happened which bought out a shallow side of my personality for which i feel embarrassed , shamed and surprised. It reminded me of Jack Black in Shallow Hal before he was hypnotised that is.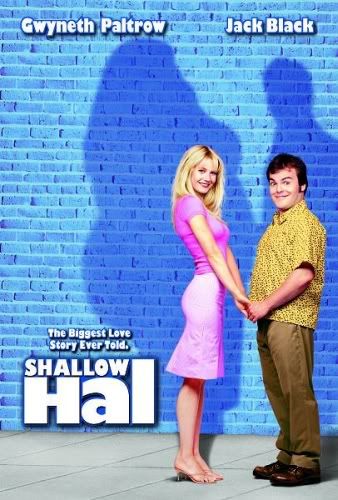 I came across a profile on one of the gay dating sites and we started chatting. To be frank i was not much interested as the person was looking for hookups and myself being not that indulgent in acts of passion usually avoid mingling with such profiles but somehow the guy came across a decent person and he asked me to meet up. I was getting bored doing nothing at my room so i thought why not but just as a precautionary measure i asked to exchange pictures. He did show his pics and told me these are pictures from past and he is a bit different now. The pictures were of a below average looking guy but looks never mattered much to me so i was perfectly OK with meeting up. I asked him to meet at some coffee place but the guy was adamant that i come to his place. I told him outright that since we were not gonna be doing 'it' then why meet at his place ? His side of argument was as he does not have a vehicle to travel and it would be difficult for him to come out at this time as it was almost dark.
I offered him to pick him up and he agreed and gave direction to his place. I felt a bit awkward because i hardly meet anyone just hours after chatting for the first time. As i got to his place something was not feeling right. When i saw the sight before me i was a bit taken back. The guy looked nothing like his picture , he looked older, with almost no hair on his head and the shocker of shockers he was handicapped or being politically correct physically challenged. He was not on a wheel chair or anything but he has some problem with his legs and he limped. I suddenly felt so uncomfortable. I tend to become very inside my shell if i feel uncomfortable. The guy was trying to make conversation but i just could not get over the fact that he had missed to mention his condition while we were chatting.
I used to follow a series called '
Monk
' where the protagonist had a number of phobias and manias and of which one was that he liked everything symmetrical. I remember in one episode where he comes across a man who just had one arm and Mr Monk just freaked out as the body was unsymmetrical. I was feeling the same, although the person before me had all his body parts intact but his physical inability just gave me a strange bubbling at the pit of my stomach. At first i felt that he should have told me about his condition before we met. Then i thought i actually never asked (because i had not imagined this can be a possibility). The guy was trying to keep the conversation going but i found myself lost in my own thoughts. Being gay itself is hard and that too with this inability might be even more difficult, while i was thinking this the guy asked me shall we go out ? I refused because i did not feel comfortable.
We chatted for some time he told me about his family and his work, he even told me about the guys he usually meets up for sex, his first sexual encounter with his brother - in - law, he even asked me about my body stats for which i just replied 'sorry i don't like to discuss such things'.
One question he put up really bugged me. "So when did you come into this line ?",
confused by the question i responded with another question "You mean dating guys ? ",
"Sleeping with guys , turned gay, like after my encounter with my brother in law i started enjoying sleeping with men"
"I did not turn into a gay just one fine day or after any encounter, I was born gay, i knew from the very beginning that i like men although the term homosexuality and gay i came across in my teens." i tried to clarify his thoughts.
He never mentioned anything about his physical disability neither could i gather up the courage to ask him. Although the person was a jovial person but even after half an hour i was still feeling very much out of place and decided to say good bye to him.'When can we meet next ?' he asked ,'probably next weekend' i replied although not sure how much of that statement will hold true.
This incident made me realise that may be i am a shallow person at some level. There are somethings which i can get judgemental about.